Mobile Banking
If you have an Android or iPhone you can download our mobile app and have all the benefits of Online Banking at your fingertips.
Account Overview
Transfers
View History
Mobile Deposit
Popmoney (person to person transfers)
Bill Pay
You can bank anywhere, anytime and have a complete banking experience! The power is in your hands!
Security
Canyon Community Bank offers the following security safeguards:
Authentication - Mobile browser and app users are authenticated by username and password each time you log on.
Encryption - The latest encryption technology is used for all transactions and masks your sensitive information.
Inactivity - After 5 minutes of inactivity, your mobile session will time out. However, you should always log out after each mobile banking session.
Real time account notifications
SecureAlerts
New SecureAlerts from Canyon Community Bank let you know the moment something important happens in your account by instantly sending a message via text*, email, push notification or to your Online Banking message center.
With SecureAlerts you'll always know exactly what's happening with your money, and you can watch for suspicious activity. It's a free service for our clients.
Choose from dozens of SecureAlerts.
Monitor your account activity such as:
A purchase using your debit card was just processed.
You instantly know.

An ATM withdrawal is made.
You instantly know.

A check clears that exceeds the amount you set.
You instantly know.
Delivered the way you want.
Messages are sent instantly using any of the delivery channels you choose:
Text Messages
One of the easiest ways to receive SecureAlerts is through text messages on your smartphone*, or wearable devices.

Email
Receive email messages about your account activity.

Online Banking Message Center
View your SecureAlerts every time you log on to Online Banking.

Push Notification
Receive notifications about your account activity directly from your smartphone*, or wearable devices.
*Message and data rates may apply.
We invite you to set up your SecureAlerts today.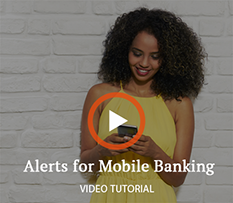 CardValet
CardValet allows you to control your card from your smartphone to prevent fraud and help with the budget! It allows you to:
Turn your card On or Off—when the card is Off, no purchases or withdrawals will be approved except for previously scheduled recurring payments
Review card-based transactions
Establish transaction use controls for a card based on

Threshold limits to help you keep your budget
Merchant categories
Specified locations such as the city where you live

Receive alerts when a transaction is approved or when a transaction exceeds any of the permitted use policies.
Receive alerts when a card transaction has been attempted, but is declined
Download our app today to start enjoying these benefits!
Pop money
Send, request and receive money conveniently
Exchange money with any of your contacts no matter where they bank
Send money securely with just a mobile phone number or email address
Funds can be available as soon as next day
Transfer Now
A convenient way to make transfers to and from non-Canyon Community Bank accounts.
Move money between your own accounts at other banks
Instant or future-dated transfers
Transfers delivered same day, next day or within three days
Mobile Deposits
The fastest most convenient way to deposit a check to your account
Easy, quick, and secure.
Deposit up to $2,500 per day